Salam semua, apa khabar? Saya ingin mengambil kesempatan ini untuk mengucapkan Salam Aidilfitri buat semua warga Kee serta pengunjung blog ini. Posting saya ini tidak akan berkongsi kisah hari raya saya, mungkin di posting akan datang kalau ada masa. Hari ini saya mau cerita sikit tentang matahari. Sikit saja sebab saya pun bukan saintis, cuma ingin berkongsi sedikit pengetahuan yang saya ada. Kalau apa yang saya tulis ini salah harap jangan segan2 betulkan, terima kasih.
Saya ingatkan isu kiamat dan 2012 ni sudah basi tapi masih ada juga orang ingin mengembar-gemburkannya lagi. Terbaru isu tentang solar storm yang mungkin akan berlaku pada 2012 pula menjadi mangsa dan dikaitkan dengan hari kiamat. Dulu sudah sebut tapi sebab sudah lama saya kira orang sudah lupa, mana tau boleh timbul balik. Sebenarnya saya sudah jangkakan ini akan berlaku. Saya tahu ramai pembaca yang sudah tahu kebenaran isu solar storm dan kiamat itu tapi saya pikir tidak juga salah kalau saya tulis di blog berkenaan isu ni lagipun lama sudah ini blog terbiar... anduuu...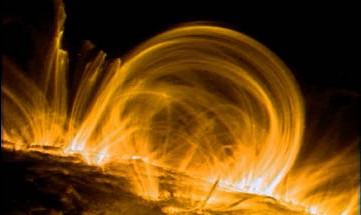 Sebenarnya gambar yang dipaparkan di atas adalah aktiviti kebiasaan matahari yang dipanggil solar burst atau solar flares. Memang biasa la matahari tu begitu jadi tiada apa yang mo ditakut dengan meninguk gambar tu. Sebenarnya walaupun matahari ni radiasinya sangat tinggi tapi sangat cantik bah... tidak percaya kamu tengok saja la video yang NASA paparkan. Solar flares tu memang selalu bah 'melawat' bumi dan bila 'berinteraksi' dengan earth magnetic field dan 'terserap' dalam atmosphere bumi, ia akan membentuk suatu pemandangan yang amatlah cantik dan dipanggil aurora. Untuk membuktikan kata2 saya yang solar flares sudah biasa 'melawat' bumi, pada 1st hingga 5th August tahun ini saja satu siri 'lawatan' solar flares yang berterusan telah berlaku. Seperti biasalah boleh nampak aurora dan kesannya pada waktu ni ada la gangguan ke atas electronic device yang sensitif dengan magnetic energy.

As for how the solar flares or sun burst or whichever u wish to call it bertindak balas dengan atmosphere bumi dan menyebabkan berlakunya aurora tu, nda la aku mau explain detail2 ya sebab nanti orang kata aku temberang jak. Lagipun aku rasa penerangan yang ringkas dan mudah dari program Nasa Connect ni lebih menarik :)
Apa macam? Menarik kan? Memang begitu la dari dulu dan sekarang, bukan sesuatu yang mengejutkan dan menakutkan. Every 11 years USUALLY the solar flares are more intense sehingga digelar solar storm, kebetulan complete solar cycle yang ke-11 tahun jatuh pada 2012. Maka ramai la orang mengaitkannya dengan kalendar Maya dan kiamat. Padahal masa 2001 dulu tiada pula orang ribut2 pasal ni solar storm... atau pun setiap 11 tahun sebelumnya. Jadi mengapa ribut2 sekarang? Adakah kerana pengumuman yang dibuat oleh NASA.
Apa sebenarnya diumumkan oleh NASA? well, they predict that in 2012 the solar flares/burst/storm will be more intense than what they expected. Why do they issue the alert now? Because of our life styles today. Sekarang kita bergantung kepada satelit dalam kehidupan harian kita... navigation system, communication system - tv, internet, etc. In the past there are not that many satelites up there, so para saintis advice is to REINFORCE THE SATELITES and BUILDING BACKUP SYSTEMS. The damages of these satelites will cost billions of economic activities. Dianggarkan sekiranya tiada tindakan persediaan diambil kesan daripada solar storm ni boleh menelan belanja sebanjak USD2 trillion setahun. fuiyo... Jadi sebenarnya amaran dibuat bukan lah pasal the end of life di muka bumi, tapi supaya membuat persediaan supaya sistem komunikasi dan ekonomi kita tidak terjejas.


As for the people on earth, we have our earth magnetic field to protect us, even if some of it reaches mother earth it will only affect the power grid so mati karan laaaa... gangguan terhadap barangan elektronik pun bisa berlaku, ini pun bukan sesuatu yang baru dan sudah banyak kali berlaku. Tiada pula orang bising2 kaitkan kejadian tu dengan kiamat.....So jangan panik bah...Cuma ada sesetengah pihak yang bimbang siri lawatan 'solar flares' ini agak lama jadi lama la juga gangguan magnetic energy yang berlaku. Boleh mengganggu kehidupan harian dan urusan kerajaan dan perniagaan dan lain2. Apa juga bah, kalau kita ni biasa sudah tu tiada karan masih lagi boleh survive bah. Nda sia2 juga aku join pengakap masa kecil2 boleh bah aku survive. Kalau nda pun anggap sajalah hari Nyepi di Bali. Kalau penggila facebook kebosanan la dia tu, baru slow internet pun sudah komplen... hahahaha... aku pun bah kalau internet slow aku complain juga... heheheheeee...tetapi perlu diingat bukan semua kawasan akan mengalami 'lawatan' solar flares ni so jangan risau la. Biasanya kalau mau tengok aurora kesan dari solar flares adalah di kawasan sebelah utara je seperti Canada, Norway, Alaska, Greenland, Iceland, Russia, Sweden dsbg. Sebagai penutup cerita, marilah kita sama2 menengok Aurora Borealis, kalau dapat pigi tinguk di Norway kan best :P



Now lets take a look at our sun :)



Peace~